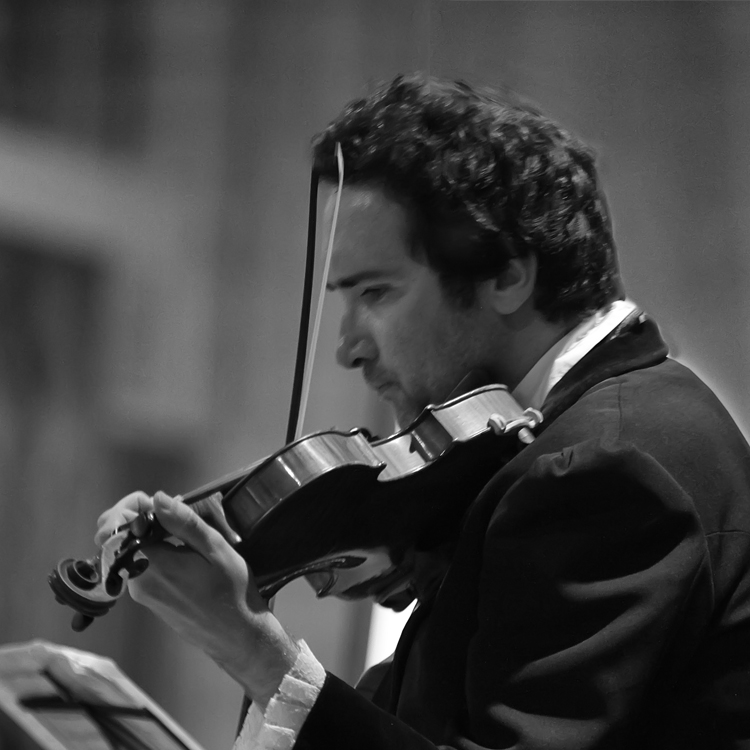 "You are a wonderful violinist and a very fine young musician"- Lorin Maazel

Born in Brussels in 1978, Eliot Lawson is of Belgian and Luso-American nationality. He started studying the violin in 1985, and was chosen by Yehudi Menuhin in 1989 to pursue his studies in
London.
However, he continued his studies in Belgium with Leon Souroujon, subsequently completing them with H. Krebbers, I.Oistrakh, I. Grubert, J.J. Kantorow, P. Vernikov and N. Shkolnikova. The titular holder of a master's degree in music, awarded "with greatest distinction" by the conservatories of Brussels and Rotterdam, he also obtained the "Artist Diploma" of Indiana University in Bloomington and a soloist's diploma from the Fiesole Music School in Italy.

During his studies he benefited from many bursaries, including those of the Dexia Bank, the Fondation Belge de la Vocation, Indiana University, Belgian Foundation for young soloists, the Flemish Community of Belgium and the Belgian-American Educational Foundation.

A laureate and finalist of several national and international competitions (including Brahms, de Beriot, Premio Jovens, Mozart, Proce Vitate, Vieuxtemps, Maasmond, Lantier, Krebbers, Premio Vittorio Gui, Tibor Varga, Cardona competitions), Eliot Lawson has given many concerts in Europe and the United States, appears on numerous important stages and was invited by many radio and television companies in Portugal and Belgium.
He has appeared as soloist with orchestras such as the Lisbon Metropolitan Orchestra, the Sofia Symphony Orchestra, the Royal Chamber Orchestra of Wallonie, Porto Symphony Orchestra, the Simfonieorkest van Vlaanderen, the Belgian National Orchestra, The Bonn Symphony Orchestra, The Orchestra of the Gulbenkian Foundation, The Royal Flemish Philharmonic Orchestra in halls such as the Singel, the Doelen, Bozar, Concertgebouw Brugge, Elisabeth hall, Centro Cultural de Belem, Concertgebouw Tilburg.
He performed during festivals such as Festival van Vlaanderen, Ars Musica, Festival de Wallonie, Festival de Bretagne, Festival Tibor Varga, Festival Roussel, Brugge cultural capital of Europe and played the opening concerts of halls specialized in new music such as AMUZ and Les Brigitinnes.
As a chamber musician, Eliot Lawson is a member of the ensembles Hermes, Enigma and
Joseph Jongen. He forms a regular duo with David Cohen (principal cellist of the Philharmonia Orchestra) and with his sister, the pianist Jill Lawson. He was concertmaster of the Rotterdam Young Philharmonic and is the concertmaster of Prima la Musica Flanders chamber orchestra and Orchestra Camera do Minho (Portugal).
He teaches violin in the conservatory of Amsterdam and the university of Minho (Braga,Portugal). He is regularly invited to give masterclasses in Belgium, Luxemburg, France, Portugal and the United States.
He recorded several CD's for labels such as Cypres and Fuga Libera receiving excellent reviews in magazines such as the Strad, Diapason (5/5), Crescendo (Joker). He will be recording the integral Hindemith sonatas, Victor Vreuls and integral solo works by L. Souroujon for the Cypres and Fuga Libera label.