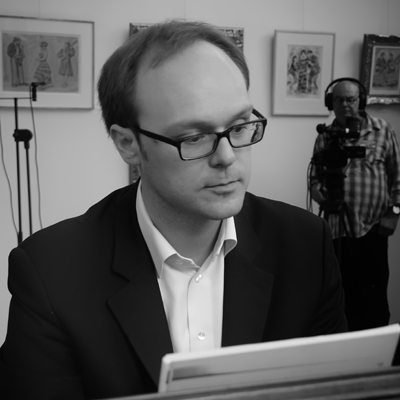 Ode to authenticity                                                                                               
Bart Rodyns brings early classical sheet music back to life – with the deepest respect for the craftsmanship of its composer. Whenever possible he plays on historical instruments because he believes that each piece deserves to be executed on the instrument for which it was originally written. Bart has his own collection to choose from: he owns replicas of Ruckers and Delin harpsichords, an Erard table piano from 1803, a Mustel harmonium from 1928 and nineteenth-century harmoniums from Debain, Alexandre and Schyven.


Old music, new zeal
When most people think of organs or harpsichords, they think of resounding churches and pretentious executions. Bart Rodyns wants to cut through this myth with his renderings that do justice to the inner richness of keyboard music; renderings that bring back the enthusiasm that was shown for it three hundred years ago. With his passion for the organ, the harpsichord and the harmonium, he creates musical wonders that strike a chord with the audience.


A surprisingly rich repertory
Bart is a keyboard player in the broadest sense of the word. He covers the complete history of music in his repertoire: from Renaissance up to contemporary music. For example, he can perform the complete organ works of Couperin, Pachelbel, Brahms and Liszt. Händel and Bach flow out of his fingertips effortlessly, and as a soloist, he has rendered Haydn, Salieri, Mozart, Händel, Bach, Corrette and Poulenc. Bart also works together with actors and directors from the music theatre scene. He was in charge of the music for, among others, productions such as Il combattimento di Tancredi e Clorinda (Walpurgis) and Nina Nina (Het Paleis).


From an early passion to all-round perfection
At a tender age, Bart Rodyns found his passion in music. His aunt's old harmonium ignited a spark in him and soon he was longing for more. As a young musician, he played jazz and pop music and learned how to improvise. He developed a love for the trade that would never fade. These initial steps provided him with the perfect foundation on which he would later build his expertise in other genres, and his ability to feel and perfectly interpret the chords and melodies of early and baroque music. 
Bart started out as a student of Dries Van Handenhoven at the Antwerp high school of Art, where he graduated with a degree in Classical Music for organ and harpsichord. He then continued his education at the conservatoires of Antwerp and Maastricht. Among his teachers were Dorthy de Rooij, Hans Leenders, Joris Verdin and Marcel Verheggen. He obtained his Master of Music degree (previously called "Teaching and Performing Musician" degree) with highest honour. With the support of Naji Hakim and Andrea Marcon he applies himself to different styles of music.


A life dedicated to music
Expressive duos.
In 2007 Bart founded the ensemble Il trionfo del Tempo, together with tenor and close friend Jan Van Elsacker. They perform authentic music from the fifteenth and sixteenth century. Their debut concert at the Musica Antiqua festival in Bruges turned out to be an overwhelming success. It resulted in their first recording in cooperation with Radio Klara: Il Canto d'Orfeo.
Famous ensembles.
Bart is the artistic director and continuo player of the renowned EUterpe Baroque Consort. This vocal and instrumental ensemble of professional international musicians delivers authentic music performances on historical instruments. Recent highlights are the opening concert of the Festival van Vlaanderen (2008) andKlara in't Paleis and Klara in Izegem (2008, 2009). Bart is also a member of the ensemble Oltremontano directed by Wim Bécu.
Historical organist.
As a result of his passion for authentic organ music, Bart is also the titulary organist and artistic advisor for the unique organ in the church of Broechem, theZilveren Orgel (Forceville, 1720). He has also recently released a CD on which he plays the restored Smets organ in Tombeek. Bart is a driven organist and therefore he is a member of several organ committees and artistic advisor to cultural project Cultuurproject Dieseghem.
Live recordings.
Bart regularly performs live shows for the Belgian, Dutch, French, Prague and Danish radio.
Passionate teacher.
At the Antwerp high school of Art (Antwerpse kunsthumaniora), Bart passes his passion for music and his extensive knowledge on to his students.
Achievements
Since he took his first steps in music, Bart Rodyns has received variousawards.
The Municipal Academy of Music, Dance and Drama of Lier: Awards: Pro Musica, Jos Van Looy, Victor Van Hemel, Medal from the city of Lier, Laureate of the Ottoboni Chamber Music Competition

1994, Brussels: first laureate at the National Technics Music Academy in the field of light music

1995, Brussels: award by the organ association Orgelkring Druivenstreek during the Flemish Organ Days (Vlaamse Orgeldagen).

1997, Convention Hall, Birmingham, UK: represented Belgium at the TMA Festival, in the light music genre

2002, Leiden, the Netherlands: first laureate at the ninth organ competition

2003, Antwerp: soloist during the opening concert of the Flemish Organ Weekend (Het Orgelweekend Vlaanderen) with orchestra Prima La Musica

2005, Kortrijk: people's choice award in a competition held during the organ concerts in Kortrijk.

2010: nominated for the Klara 2010 award in the category This Year's Promising New Talent.
info : www.bartrodyns.be